Update, 10/10/18: After two years of development and a pre-Broadway run in Washington, D.C., BEETLEJUICE: The Musical The Musical The Musical (yes, that's its official title) is finally heading to Broadway… And you can buy tickets for it right now!
Jump in the line. Get your tickets now: https://t.co/b0VUJjR2BS. #BeetlejuiceBway pic.twitter.com/wceToyELiQ

— Beetlejuice on Broadway (@BeetlejuiceBway) October 10, 2018
The new musical is the next project from the UCB and Broadway creatives who helmed Gutenberg! The Musical!. Though the Broadway cast has not been announced yet, we do know that it will be directed by Tony winner Alex Timbers (Bloody Bloody Andrew Jackson), with a book by Scott Brown and Anthony King, and music and lyrics by Eddie Perfect (the upcoming King Kong musical). And if the official BEETLEJUICE description is any indication, the ghost with the most may just find new life on the stage:
"It's showtime, folks! Beetlejuice is ruder, raunchier and frankly, more repellent than ever in this original musical based on Tim Burton's wonderfully demented film. Directed by Alex Timbers (Moulin Rouge!), BEETLEJUICE tells the story of Lydia Deetz, a strange and unusual teenager obsessed with the whole "being dead thing." Lucky for Lydia, her new house is haunted by a recently deceased couple and a degenerate demon who happens to have a thing for stripes. When Lydia calls on this ghost-with-the-most to scare away her insufferable parents, Beetlejuice comes up with the perfect plan, which involves exorcism, arranged marriages and an adorable girl scout who gets scared out of her wits. Get tickets now to BEETLEJUICE – hell, bring the whole family! We've got plenty of 4-letter words that your kids will love."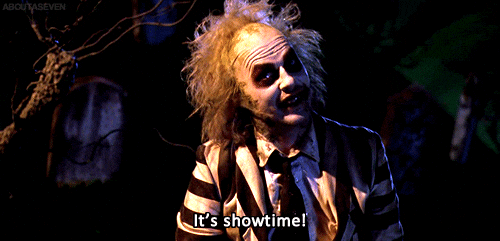 Original story below:
As we seem to be saying more and more every day, nothing is sacred. For better (The Thing) or worse (Robocop), the films and television shows you grew up with or have a very deep connection to are bound to get rebooted, remade, a sequel, or adapted for another medium at some point. And while we may not be getting that rumored Beetlejuice sequel after all, it looks like Tim Burton's ghost with the most is coming back in another form: BROADWAY! *jazz hands*
According to The New York Post, director Alex Timbers is developing a Beetlejuice musical with Warner Bros for the 2018-2019 season. Timbers was recently replaced on the Frozen musical, but don't let that scare you off. He recently collaborated with Talking Heads' musician/genius David Byrne and Fatboy Slim for Here Lives Love, and has reunited with Byrne for a new musical about Joan of Arc called Saint Joan. (Sign us up for that, please.) And before devoted fans of Burton's cult classic stress too much about an adaptation, consider this: Heathers, another beloved Winona Ryder dark comedy from the '80s, turned out to make a wonderful Broadway show, and that one doesn't even have as many musical moments as Beetlejuice.
If we're being honest, we're much more excited for a musical version of the film than a sequel. In fact, Beetlejuice himself, Michael Keaton, recently expressed his doubts to Variety, saying that he thinks the "ship has sailed" and that a lot would have to happen for it to go right. And while we adore old school Tim Burton flicks, Michael "Best Batman" Keaton, and Queen of the Macabre Winona Ryder, we're totally fine with Beetlejuice staying a one and done piece of perfection.
Update, 3/28/18: The Beetlejuice musical comedy finally has an official launch in sight. Say that three times and see what happens. Via Entertainment Weekly, Beetlejuice will premiere at the National Theatre in Washington, D.C. in late October before heading to Broadway. Directed by Alex Timbers and based on the Tim Burton film, this take on the story is "ruder, raunchier, and frankly, more repellent" according to the show's website. You can get updates on casting (which hasn't been confirmed yet), tickets, and more at Beetlejuice Broadway.
What do you think about a Beetlejuice musical? What songs do you think Alec Baldwin and Geena Davis' ghost couple should sing? Will Miss Argentina get a solo? And how much aerial work will go into "Day-o"? Summon your thoughts to the comments below.
Image: Warner Bros
---
Rachel Heine is the Editor-in-Chief of Nerdist and a lifelong Winona Ryder devotee. Send her Beetlejuice gifs on Twitter @RachelHeine.