The Simpsons family have gone screeching into their home at 742 Evergreen Terrace at the start of every episode for nearly three decades, and after welcoming fans to join them for so long, many know those tacky painted walls as well as they know their own. But would you recognize their house if it underwent some major cosmetic changes? Would the show and family be the same if their residence had been designed by someone else? The answer to those questions is probably not, after seeing just how different their home could look.
We came across this very cool "what if" at the A.V. Club, and it was put together by Home Advisor. They re-imagined what the Simpsons' iconic home would look like in eight different architectural styles popular from around the rest of the U.S. They made sure to keep the same basic elements, like the two-car garage, the chimney along the side, and all of the windows in the same general place.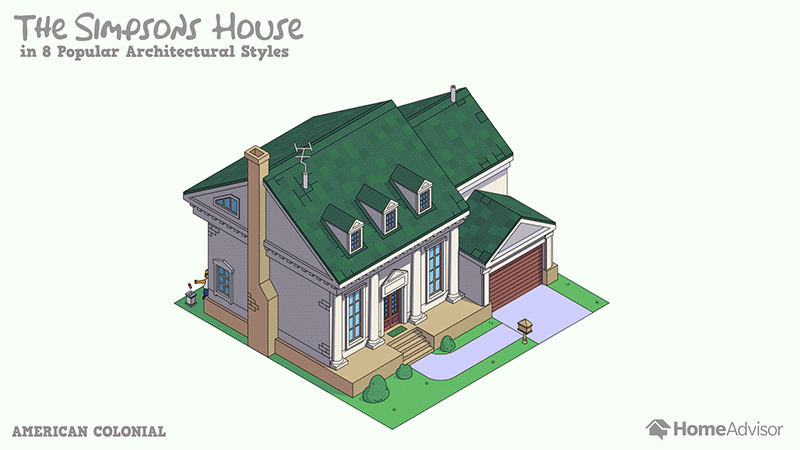 The eight styles include:
1. Tudor
2. Colonial
3. Log Cabin
4. Victorian
5. Cape Cod
6. Mediterranean
7. Art Deco
8. Contemporary
The one that looks most like the house on the show we know and love is the Cape Cod, with the Art Deco and Contemporary houses looking more like what Marge would live in if she had married Artie Ziff instead.
Make sure to head to Home Advisor to check out their write-ups about each design, because there's a lot to learn about the different styles and their history. But as cool as this is, all it does is confirm what we've always known: the Simpsons live in the only house they ever should.
Which one of these homes would you most want to live in? Enter our comments below and let us know.
Featured Image: Fox
GIF: Home Advisor
Celebrate Some Simpsons Stories!