Cat food bowls and ghosts might not seem to have much in common to the average non-pet parent, but those of us who do live with furry companions know the truth: our feline friends like to yowl irrationally at both. They cry at their bowls when they're not quite as full as they insist they must be, and at ghosts when…well, we assume that's what they're meowing at when they look up into the corner at nothing.
Now we have a way to combine every cat's two favorite things to howl at: the Ghostbusters ghost-trap cat feeder, which we were tipped off to via Geekologie. Its design is not exactly optimized for pet access, but they'll find their food if it's in there, and you can trigger it to open either on a schedule or remotely. It's most appropriate if your cat is like Slimer and doesn't know when to stop gorging; if they're more disciplined, you can probably just leave it open until you want to show off to your friends.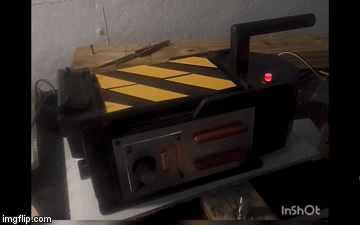 This is only a prototype for now, but it's hard to imagine rabid fans not buying it. The makers at If Industries just have to hope their safety testers are all a bit nicer than Walter Peck, though to be fair, Peck was antagonized. Just don't mix it up with the real thing, because if your cat's anything like mine it can do some real damage to the other ghosts in the containment unit.
Would your cat appreciate the movie nerdiness of the situation? Let us know in comments.
Images: If Industries, Imgflip